Last night's Game of Thrones episode has left the fans in awe and that's why internet is going bonkers over it. Although the episode was leaked online prior to its release, but majority of people got the opportunity the exciting episode last night.
After last week's fairly low tone episode (save for the last ten minutes), Game of Thrones picked up some great pace on Sunday with a brilliant and absorbing episode. This episode included huge amount of dead people attacking Jon Snow's men along with Daenerys and her dragons. But Night King had the last say in this fantastic episode.
We are literally out of adjectives to describe how good the episode was last night but as the season is approaching its end, it's getting better and better.
Well beware of some major spoilers in this post ahead. If you haven't watched the episode, then you might not want to go ahead.
So, let's get into it. Halfway through the episode, we see Jon Snow leading a group of men North of the Wall to catch a white walker, bring it back to Kings Landing and show it to Cersei to prove that army of the dead is a real threat.
Clegane: Can I come beyond the wall as well?

Jon: sure man, just keep your guard up and don't do anything stupid

Clegane:#GameofThrones pic.twitter.com/wHoxt5TTBZ

— Siddharth (@sid_930) August 21, 2017
But this plan of Jon falls apart when they are surrounded by a huge number of bloodthirsty zombies with absolutely no way out.
But just when it looks like that everyone is going to die, Daenerys and her dragons come to save them and start roasting the army of the dead with dragon fire. The scenes are literally worth watching.
When Dany and the Dragons showed up #GameofThrones #ThronesYall pic.twitter.com/PeNAo5pYnw

— SiliconValleySteph (@ItsStephAlof) August 21, 2017
Everyone is saved (almost everyone) and they make it out alive except for one of the three dragons. The dragon is unfortunately killed by a magic ice spear thrown by the Night King. Turns out he is some sort of Olympic gold medallist in Javelin. Such was the accuracy that brought down the dragon in mere seconds.
The Night King at Westeros Winter Games 2017 😂 #GameOfThrones pic.twitter.com/Jzq5wWXPlY

— King Jon Snow (@LordSnow) August 21, 2017
But hold on! The craziness doesn't end here. The real thing starts from here.
In the final scene, we are back North of the Wall where army of the dead is making serious effort to pull out Viserion's gigantic corpse out of icy water.
The Night King comes forward and puts his hand on the dragon and then… the dragon opens his eyes again.
But he's not alive anymore. The blue eye shows that the dragon is part of the army of the dead. Now that is some big development in the story and something that would have shocked many fans around the world.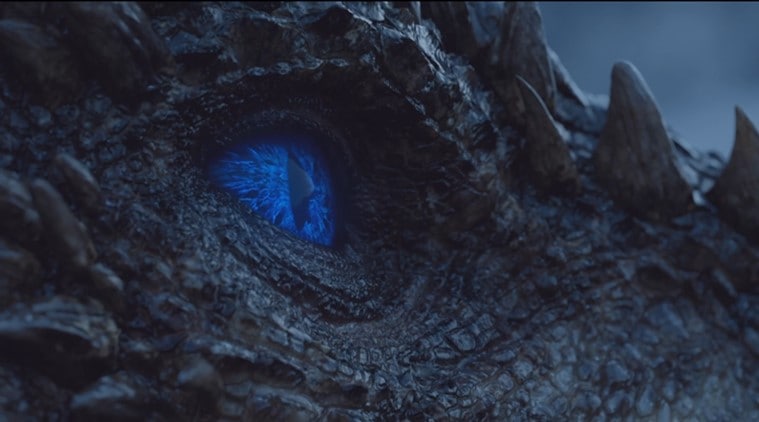 Let's see how the season's finale goes because it is definitely being awaited eagerly by all Game of Thrones' fans.
anything but the dragon #GameOfThrones pic.twitter.com/okzpjd2IG1

— Young Midoriya's fan (@jonghyuns_tears) August 21, 2017
Dear boss, can't come in tmrw. A dragon died. Need time to grieve the loss. Sincerely, J #GameOfThrones pic.twitter.com/CGGtMVdBw3

— Jessica Napoli (@napoli_jessica) August 21, 2017
This episode has me depleted. Emotionally. Physically. Grammatically. Mentally. #GameOfThrones  #ThronesYall pic.twitter.com/Kr7VS06L3K

— Despacito Papi (@FZCLARKE) August 21, 2017
Here is the preview of the season finale of Game of Thrones. Watch and enjoy!
Featured Image Credits: Inverse